Published by Chrissy Fletcher 2004, ISBN 0-9580497-0-X.
This book tells the story of a 1000 acre land grant in 1819 to Hannibal Hawkins Macarthur, nephew of John Macarthur. Hannibal Macarthur, in partnership with his brother Charles (who died in 1827), increased the holding to 20,000 acres over the next thirty years before Macarthur succumbed to liquidation in 1848. In about 1834 Hannibal Macarthur's assigned convicts built the granite woolshed and homestead, both of which stand today; the homestead still in use.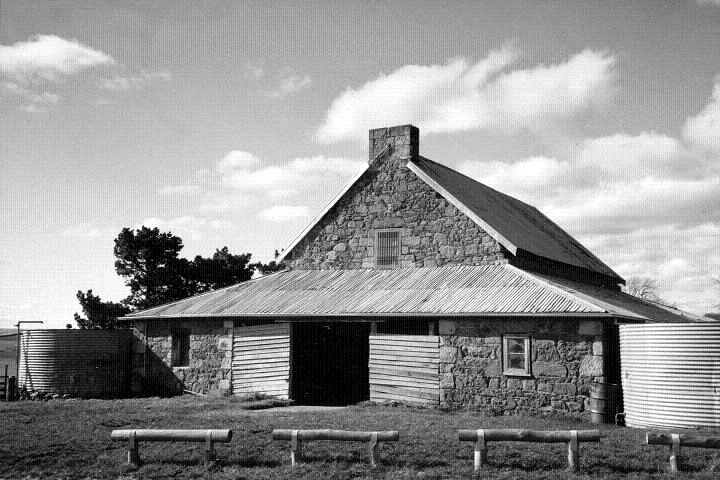 The historic stone woodshed on Arthursleigh built by convicts in the early 1830s.
Wealthy Sydney wool merchant, Hon Thomas Holt MLA, purchased Arthursleigh from the trustees and there he trained his sons in farm management. His grandson Eric Holt lived and worked on part of the property known as "Mount Pleasant", the major portion of Arthursleigh being leased to Alec Creswick's Tupra Pastoral Company. Under the terms of Eric Holt's Will, Arthursleigh was bequeathed to the University of Sydney who took control after his death in 1979 and who still own the property today.
The book explores the growth of Arthursleigh over 160 years, the establishment of the Big Hill School and Primitive Methodist Church (which still stands on the property) and the alpacas that were depastured there in 1860 by Charles Ledger, the first for the colony. The incredible journey of Ledger and his South American shepherds as they smuggled the alpacas out of Peru, travelling hundreds of exhausting miles over the Andes Mountains to Chile and then by sea to Sydney, is a fabulous but little-known story of Australian colonial history.
Apart from replacement of its shingled roof, the Big Hill Church has changed little since its construction in 1878.
Intimate details of the lives of the local residents, their triumphs and tragedies are well documented. A comprehensive index of over 500 names connected with Arthursleigh are appendixed in the book, including cemetery records and assigned convicts.
When I first began my research I found little information on Arthursleigh in any library. I believe the reason for this was that Arthursleigh was always owned by absentee landlords and didn't have a family of its own to nurture its history and build an archive.
Aside from the inheritance trail through the Holt family, the closest Arthursleigh has to a family of its own is the Burgun family from George's first managership in 1948, then to each of his three sons, and now carried on by George's grandson Stephen Burgun into the 21st century. My own personal link with Arthursleigh is also now cemented as my husband and I are godparents to two of Stephen and Michelle Burgun's children. I can now claim a small kinship link with this historic part of Australia.