Introduction:
Living in Melbourne, the "most locked down city in the world" during the Covid 19 pandemic, I decided to write up the stories of my "pioneer" ancestors, that is the first person of each of my family tree branches to come to Australia – whether by choice or otherwise!
Thomas Hughes was the earliest to arrive in the colony in 1825. Here is his story, and that of his wife Sarah Want.
It seems my ancestry goes a long way back in the English county of Wiltshire with my 3 x great grandparents Thomas Hughes and his wife Sarah Want. The family tree chart attached will outline how far back I have gone with my research, much further into Wiltshire with the Want family. It is possible that Tom's father William Hughes was born in Wales, and of course Hughes is the most Welsh of names. This would fit with my ethnicity of 3% Welsh ancestry.
I'm sure we have relatives still in Wiltshire today, but for us, we know that our branch of the family ended up in Australia, due to one unwise choice made by Tom Hughes and his two friends in 1823.
Tom was born in 1793 and Sarah in 1797, both of them born and baptised in the small village of  Beechingstoke 8km from Pewsey.
The population of the village was about 160 so the Hughes and Want families knew each other well. Tom and Sarah and their siblings played together as children, their friendship growing deeper as they hit their teenage years. When Sarah reached 19, she and Tom decided to marry and announced their marriage banns for three consecutive Sundays at St Stephen's Church of England, their local church. On an autumn day the Rector, Charles Mayo, well known to the families, performed the simple ceremony on 27 October 1816.
St Stephen's church at Beechingstoke originally  built in 1291. Only the 14th century chancel arch and surrounding wall survived and the nave was rebuilt in 1693 and the chancel in 1791. The chancel was rebuilt by the Revd. Charles Mayo whose initials and the date 1791 appear above the priest's door in its south-east wall.
In the church register, Tom and Sarah made their marks with a cross X, indicating they had had little schooling and were both illiterate. Sarah needed the consent of her parents as she was underage and her parents William Want and Ann Bradfield gave that consent.
Beechingstoke (or Beauchampstoke), known simply as 'Stoke' until the 19th century lays in the Vale of Pewsey, it contains 891 acres and is bounded on three sides by the river Avon. It is about 10 miles from Avebury stone circles and the Pewsey White Horse, well-known historical landmarks in the area.
Agricultural workers in the 1800s wore smocks over their clothes, particularly when going to market. Stockings, breeches, wide-cut shirt, waistcoat, jacket and hat were the common attire at the turn of the 19th century.
In 1541 the king (Henry VIII) transferred the estate of Beechingstoke to the newly-formed chapter of Winchester, who retained it until 1845 when they sold the land to their copyhold tenant, Joseph Hayward. And this name Joseph Hayward is integral to our story.
One year after their marriage, Tom and Sarah's first child William was born, named after both his grandfathers. The following year James was born, then two years later another son George. After three boys I'm sure Tom and Sarah were delighted to have a little girl Mary Ann born on 2 March 1823, who was to become my great, great grandmother.
Nine months after Mary Ann's birth, on the night of 16 Dec 1823 Tom Hughes, in the company of  James and Dan Razey, broke into Manor Farm, the home of Joseph Hayward at Beechingstoke. They stole two flitches of bacon and a chine.
Discovered and arrested, they were sentenced at the Lent Assizes held in March 1824. Imagine how Sarah took this news of her husband's arrest! She was still a young woman of 26 with four children under 6 and a baby on the way. The newspaper reported on 1 March that the criminals were committed to the newly built Fisherton Gaol in Salisbury.
On 13 March 1824 at Wiltshire Quarter Assizes held in the Council Chambers, Tom was sentenced to death for his crime! To their huge relief the men were reprieved from a hanging  and Tom's sentence was commuted to transportation for life – still an incredibly harsh sentence for burglary.  The British legal system at the time was harsh. Judges wanted a more lenient punishment than the death penalty and banishment was considered a good alternative as the criminal was removed from the country, it was a cheaper option that prison and also helped Britain colonise Australia. Before transportation prisons and hulks were very overcrowded.
It was common for transportees to be held on the prison hulk "York" in Portsmouth Harbour. After an eventful naval career in the Napoleonic Wars, in 1819 the "York" returned to Portsmouth and was decommissioned and converted into a prison hulk. Up to 500 convicts at a time, with their guards, lived, ate and slept in extremely cramped conditions.
In general, conditions on board the floating gaols were appalling. The standards of hygiene were so poor that disease spread quickly. The sick were given little medical attention and were not separated from the healthy. Many of the convicts sent to New South Wales in the early years were already disease ridden when they left the hulks. As a result, there were serious typhoid and cholera epidemics on many of the vessels heading for Australia.
It was reported on 18th December 1824 at Portsmouth of the detention of many outward bound vessels by contrary winds. Some of the ships had been made repeated ineffectual struggles to clear the Channel but could not get to the westward of Plymouth. The convict ships Hercules, Royal Charlotte and the Asia were among the vessels held up at Portsmouth.
It was on the ship Asia that my 3 x great grandfather Thomas Hughes, now a convicted criminal, set sail from Plymouth on the Asia's third voyage as a convict transport under the command of Captain William Pope and Surgeon Superintendent Thomas Davies. It departed on 5 Jan 1825 with 102 lifers out of 202 passengers. The voyage took 113 days, calling at Santa Cruz on 24 January.
Surgeon Davies' reported after the voyage that there were no cases of scurvy on this voyage and that he was pleased to report that there were no cases of illness when the vessel entered Port Jackson on 29 April 1825.
It may not excite surprise that my anxiety to prolong the existence of men so circumstanced has been great and continued and I beg to remark that in every individual requiring even a purgative and the facility with which the greater number were restored to their former condition, may be conclusive as to the slight tendency of their indisposition to danger. In conclusion I had the satisfaction of discharging my charges in the Colony perfectly healthy.
Shortly after arrival at Sydney, Tom and a fellow convict George Collins were assigned to Mrs Bunker at Liverpool. The 1825 convict muster lists Tom as a GS (Government Servant) with Mrs Bunker at Liverpool. This was Ann (Minchin) Bunker, third wife of Eber Bunker, known as the father of Australian Whaling. Bunker had been in residence since about 1814 at Bunker's Farm at Collingwood near Liverpool which was built of brick with a shingled roof. There were two rooms with two windows in each, and a hall between them.
The outbuildings included a detached kitchen and store, stables, coach house, slaughter house, stock yards and convict huts. The farm supplied fresh meat to the Government Stores which would have been a lucrative contract.
Bunker's seafaring days came to an end in 1816, and following the death of his second wife, in 1823 Eber Bunker married his third wife Ann Minchin the widow of Captain William Minchin from Minchinbury at Rooty Hill.
As Shakespeare wrote: "Misery acquaints a man with strange bedfellows", so Tom was surrounded by fellow convicts and found it hard to follow a straight path.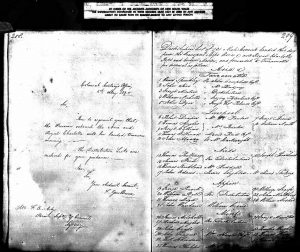 Still working with the Bunkers in 1828, Tom became aware that he could apply for Sarah and the children to join him. Masters of convicts saw this scheme as a way to encourage convicts to settle down and a petition was submitted for Sarah and the five children to travel to NSW.
This was encouraged in England also. When husbands were transported their wives and children became a burden on the parish to which they belonged. As the funds for poor relief were acquired from the poor rate, levied on the local landowners, these gentlemen supported the scheme to provide passages for the families to follow their husbands and fathers. The scheme was a well-regulated plan to provide for family reunion at the expense of the British Government as an indulgence to well-behaved, established convicts who were able to support their families.
The petition was signed by Rev Charles Mayo, Mr Joseph Gilbert and Mr Joseph Hayward, all of Beechingstoke, as "respectable persons to whom petitioner's family were known". Again, the name of Joseph Hayward appears in our story. Did he have sympathy for Sarah Hughes, the young mother who would no doubt have been dependent on the parish for subsistence for herself and her young family? Or was he glad to see the back of the wife of the man who robbed him?
Sailing from Woolwich on 12 January, the Burrell was one of three convict ships bringing female prisoners to New South Wales in the year 1832. It carried 101 females on a voyage of 133 days under the command of Captain John Metcalf and Surgeon George Williams
The Times in January 1832 reported –
……The Times – The cargo of the Burrell is nearly made up. Her complement being already upwards of 100 female convicts beyond which there are on board free women and children, some of whom have obtained leave to join those relatives who have, in consequence of their crimes, been banished from the land of their nativity. There are among them, however, several who, in consequence of a boon held out by Government to induce women of good character to emigrate, are going out as free settlers.
This was George Williams' only voyage as surgeon superintendent on a convict ship. He kept a Medical Journal from 13 December 1831 to 16th June 1832………
One hundred and one female prisoners with thirteen children arrived on board the Burrell at Woolwich between the 21st and 25th of December 1831, eighty five of whom were from London and the remainder from the country. The week following, nine free women, wives of convicts and 32 of their children (including five of Sarah's) were received on board. The whole of the prisoners were in a good state of health with the exception of one.
During the stay at Woolwich the weather was cold and damp with easterly winds and in consequence catarrhal complaints became very prevalent and the first three weeks at sea the women continued very ill and three cases of pneumonia occurred. After this time we fell in with fine clear weather and favourable winds and with the exception of a few cases of diarrhoea on entering the tropics, the women continued free from complaints until we were within a few hundred miles of New South Wales. We then encountered some heavy weather with frequent showers of rain and catarrh again began to prevail and the older women complained of rheumatism. Some of them became much debilitated and it was necessary to keep up their remaining strength by an allowance of preserved meat and an extra allowance of wine. There was one death, that of the infant daughter of Margaret Ryan who was already ill when she came on board.
There was an outbreak of whooping cough amongst the children in February and George Hughes aged 11 was one of those named in the Surgeon's journal.  The symptoms were severe with difficulty breaking, quick pulse, and febrile symptoms. On 1st June the Burrell came very close to getting on to Bennelong Point during the gales on that day, only just being brought up in time. Soon Sarah and the children were disembarking the Burrell, glad to once again be on land and looking forward to seeing Tom.
After the arrival of his family, Tom immediately applied for a ticket of leave as he should have been able to be assigned to his wife. Initially he received a "Ticket of Exemption from Government Labour" in 1832 and got his formal Ticket of Leave (No 33/648) on 10 September 1833.
The National Library of Australia states that a ticket of leave allowed convicts to work for themselves provided that they remained in a specified area, reported regularly to local authorities and attended divine worship every Sunday, if possible, although could not leave the colony.
In 1833 Tom and Sarah welcomed another son, and a daughter Jane followed in 1834.  By 1836 Tom and Sarah and the seven children had moved to Cobbity near Narellan in outer Sydney near Camden. There Sarah gave birth to two more little girls, Elizabeth and Sarah, the last of their nine children, with seven surviving and living with them in NSW.
Tom received his conditional pardon on 1 May 1840 after serving 17 years from his life sentence. Tom now enjoyed the freedom of the colony, but was not allowed to return to England.
And here, as written on the Pardon, we get our first glimpse of what Tom looked like. He was 5ft 4-1/2" tall, had a tanned "brown" complexion, brown curly hair and blue eyes.
Tom and Sarah continued to farm at Rope's Creek surrounded by their children and grandchildren.
Tom and Sarah's 18 year old daughter Mary Ann, said to have eyes of cornflower blue, caught the attention of a local man, ex-convict Tom Neal.  They married at South Creek in 1841, most likely in St Mary Magdalene Church. She and Tom moved on to Bathurst and then Brokenshaft Creek near Orange. They raised a family on their farm and in 1895 were tragically caught in a fire in their cottage and were both burnt to death.
Thomas Neal and Mary Ann Hughes were my 2 x great grandparents.  Theirs is a separate story.
Two years after Sarah Want Hughes died in 1850, her daughter Elizabeth married Andrew McVey at the family church of St Mary Magdalene.
Before Sarah Want Hughes died at Rope's Creek on 25 October 1850 aged 53 she had buried two babies in Beechingstoke, given away 3 children in marriage and welcomed 8 grandchildren to spoil.
Son George had moved to Bathurst and died there aged 33. The surviving children all married and had many children. Tom had 18 grandchildren by the time of his death at Rope's Creek on 20 July 1854, age 61. Tom and Sarah are both buried in the cemetery attached to St Mary Magdalene Church of England (now located at 299 Great Western Highway, St Mary's).
Tom Hughes and Sarah Want left 52 grandchildren to build lives and families in New South Wales.